New SPAC Index Beckons ETFs While a Now-Dead Gauge Warns of Pain
https://www.bloomberg.com
Please click the above link for news, 'New SPAC Index Beckons ETFs While a Now-Dead Gauge Warns of Pain', in Bloomberg.
Crystal Kim | Bloomberg
The advent of an exchange-traded fund that tracks special purpose acquisition companies appears to be a question of when and not if. And the launch of a SPAC index may speed up that evolution.
The IPOX SPAC Index quietly went live on July 31 amid a feverish pace of SPAC initial public offerings that has yet to abate. Almost 90 so-called blank-check companies have debuted on U.S. exchanges, collectively raising more than $34 billion this year, according to data compiled by Bloomberg. Acting as a shell company, their express purpose is to buy another company looking to go public.
It's a trend that Josef Schuster, co-founder of the IPOX Indexes, describes as an "outgrowth of American entrepreneurialism." The ultimate goal of the index is to let the average investor participate in that market, he said. Yet, a now-discontinued predecessor, the SPAC Index, warns on its web page: "You can lose a lot of money."
In late 2017, before the SPAC craze took off, Alex Gavrish, chief executive officer of small, independent research firm Etalon Capital, launched the SPAC Index, but it survived only a few months due to a "lack of interest," Gavrish said. In a telephone interview, he said he never anticipated the seven-member index would post "good performance."
"Most of the companies are crap," he said of those early endeavors emerging from SPACs before more developed companies began taking part such as Utz Brands Inc. and Richard Branson's Virgin Galactic Holdings Inc. And it was also before the first filing of a SPAC ETF.
Niche Market
Indeed, there have been pitfalls — liquidity, for one, size, another — in creating a basket of stocks for what is still a relatively niche and unpopulated corner of the market. The methodology of the new index aims to address some of the issues, Schuster said.
The 30-stock index tracks common shares ex-warrants, is market-cap weighted and only includes the largest of a specific universe of SPACs that meet a daily trading threshold. Schuster declined to answer specific questions about methodology and member stocks, but he did say the index includes Churchill Capital Corp. II and III, Social Capital Hedosophia Holdings Corp. II and III and Tortoise Acquisition Corp. After the most recent rout in technology shares, the index is now outpacing gains in the S&P 500.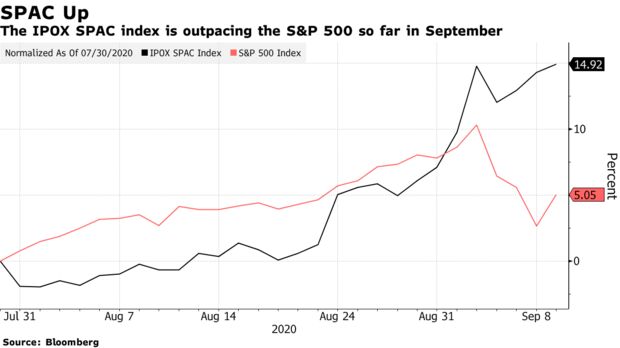 In general, a SPAC ETF "would be pretty clunky," Bloomberg Intelligence analyst Eric Balchunas said. The problem with many SPACs is that they are small, with fairly wide spreads, but the impetus for building a SPAC ETF is great, he said.
"For an issuer, first to market is crucial," Balchunas said.
The IPOX SPAC index may hold onto shares of the resulting business combinations from SPAC reverse-mergers for a period of time, but the SPAC is intended to capture performance from IPO to deal consummation. Gavrish's index, in contrast, aimed to invest in the companies after they emerged from the SPACs.
As for performance, Schuster observes the same skew as seen in the traditional IPO market — a few strong SPACs outlifting the weak. The First Trust US Equity Opportunities ETF over the past 10 years returned more than 17% annually compared with the S&P 500's 14%, according to data compiled by Bloomberg.
"The question is will the couple that pop, pull the whole thing up," Balchunas said.